Mass Cleanup of Bird Sanctuary off the Coast of Manila — NTDTV.com
See on Scoop.it – Earth Island Institute Philippines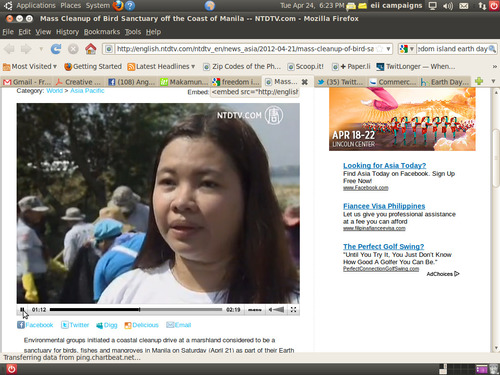 Environmental groups initiated a coastal cleanup drive at a marshland considered to be a sanctuary for birds, fishes and mangroves in Manila on Saturday (April 21) as part of their Earth Day campaign.
About 100 volunteers and activists handpicked bottles, plastics and other non-biodegradable wastes washed ashore on the 175-hectare mangrove island, called Freedom Island, on the southwestern coast of Manila.
Environmental activist Marie McPhedran volunteered for the clean up and protest action to preserve Freedom Island for future generations.
[Marie McPhedran, Member And Volunteer, Freedom Faithnet Global]:
"It only takes a few hours off from our day-to-day lives to give a little something back to our mother earth. We must learn how to love our environment since it is our legacy to the next generation. Let's leave our children with a cleaner Philippines."
Earth Island Institute Philippines Campaign Officer Angela Colmenares said tons of garbage have been washed ashore in the coastline and nearby island.
[Angela Colmenares, Campaign Officer, Earth Island Institute Philippines]:
"We are cleaning this place because we want this place to be protected and preserved. We do not want any development that would ruin the natural environment since it is good as it is. It caters 82 species of birds, and if given the chance, would have a large potential to be an eco-tourism spot that can generate jobs."
An average of three to four truckloads of non-biodegradable garbage is collected during their routine monthly cleanup drives as wastes from a nearby shanty community and landfill are washed up on the island's coastlines, she said.
Besides the garbage problem, Freedom Island is also facing threats of an impending reclamation project initiated by the city government that may destroy the birds' natural habitat, Colmenares added.
Earlier on Saturday, activists marched along Manila's coastlines carrying placards and streamers condemning the reclamation of Freedom Island.
A signature drive to stop the reclamation project has been initiated since January and has garnered thousands of signatures hoping to reverse the government's decision to add residential areas, business centers and shopping malls around the bird sanctuary.
Earth Day is an annual event celebrated on April 22 which aims to promote awareness and protection of the environment.
See on english.ntdtv.com