Markey, 42 Dems Urge President to Protect Dolphin-Safe Tuna Label: Misguided WTO Ruling Puts Dolphins at Risk, Misleads Consumers
See on Scoop.it – Earth Island Institute Philippines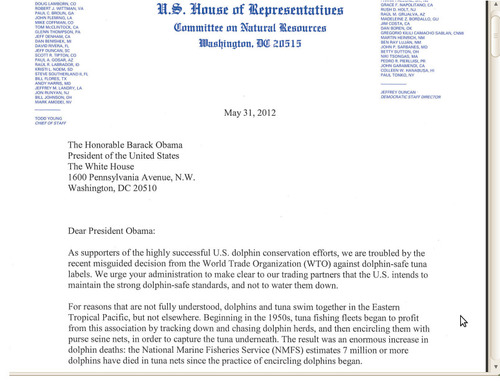 WASHINGTON (May 31, 2012): Today Rep. Ed Markey (D-Mass.) and 42 other Democratic members of Congress delivered a letter to President Barack Obama, urging the President to defend a U.S. law that has stopped the slaughter of millions of dolphins in the Pacific Ocean.
Rep. Markey, the ranking member of the House Committee on Natural Resources, made the request after the World Trade Organization (WTO) ruled earlier this month that U.S. dolphin-safe tuna labeling standards are discriminatory. The decision aimed to resolve the ongoing dispute between the U.S. and Mexico over fishing practices in the Eastern Tropical Pacific (ETP), but instead dealt a blow to recovering dolphin populations and to American consumers by asserting that tuna caught by 'fishing on dolphins' should be afforded equal footing in the U.S. market.
'Fishing on dolphins' is a technique used by Mexico and several other Central and South American countries by which dolphin schools are chased and encircled with nets in an effort to catch tuna swimming beneath. The practice has killed an estimated 7 million dolphins since the late 1950s, according to the National Marine Fisheries Service. However, since Congress adopted the dolphin-safe labeling regime in 1990, dolphin deaths in the ETP have decreased from as many as 100,000 annually to fewer than 2,000 per year.
In the letter, available HERE, Markey and his colleagues note that the extremely successful dolphin-safe labeling regime is not trade restrictive because it is voluntary: Mexico can still export canned tuna to the U.S., it simply cannot use the dolphin-safe label if the fish were captured using a technique that harms dolphins. They also contend that the science-based standards have been proven to serve a legitimate conservation purpose.
"The American people deserve to know whether or not the fish they eat was caught by killing Flipper," said Markey. "Dolphin-safe labeling of canned tuna has been successful in protecting the species and giving consumers informed choices." The letter also notes that the U.S. has given Mexico hundreds of millions of dollars in economic development aid over the past several years, a total which does not include much larger payments for counter-narcotics, military assistance, and humanitarian operations.
The iconic dolphin-safe seal is the earliest and most successful example of an eco-label driving consumer choice. According to the Earth Island Institute, a non-profit group that certifies tuna as dolphin-safe, over 90 percent of the world's canneries buy and sell only dolphin-safe tuna.
# # #