After TRO lapsed, PH dolphins on to Singapore
See on Scoop.it – Earth Island Institute Philippines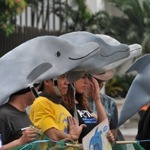 There may be no stopping the re-export of 25 bottle-nose dolphins from Subic to Singapore.

A day after a Temporary Environmental Protection Order (TEPO) that a Quezon City court issued against shipping off the dolphins lapsed, Bureau of Fisheries and Aquatic Resources director Asis Perez confirmed that the government has given its go signal.

"Yes, the Department of Agriculture has issued the said permit," he told Yahoo! Southeast Asia in a text message.

This, despite plans by petitioner Trixie Concepcion of Earth Island Institute Philippines to file a motion of reconsideration to extend the TEPO. Concepcion told Yahoo! Southeast Asia that she felt that she was deprived of due process.

Judge Evangeline Castillo-Marigomen of Quezon City Regional Trial Court Branch 101 ruled against extending the TEPO on Wednesday, saying petitioners "have not proven any violation of law committed by the concerned government agencies (DA and BFAR)."

Perez said he has no information on when the dolphins will be shipped out. He said, however, that quarantine officers will oversee the shipment when it does happen.

The dolphins, which were captured in the Solomon Islands, have been an attraction at Ocean Adventure Park in Subic, Zambales since 2008.

A report on the Solomon Times warns the dolphin trade there may be unsustainable.

Citing research from the South Pacific Whale Research Consortium, the Solomon Times article said the dolphin population in Guadalcanal Province may already have been halved by the dolphin trade. It said only one dolphin should be taken from the province every five years.

Concepcion and another petitioner, Philippine Animal Welfare Society director Anna Cabrera, want the dolphins returned to the Solomon Islands and released into the wild.
See on ph.news.yahoo.com